Equipment Available

SYNCHROTRON CRYSTALLOGRAPHY
The Facility helps coordinate access for Northwestern researchers to the Life Sciences Collaborative Access Team (LS CAT) at Sector 21 of the Advanced Photon Source, Argonne National Laboratory
LS CAT
The Life Sciences Collaborative Access Team (LS CAT) is based at Sector 21 at the Advanced Photon Source, Argonne National Laboratory. Current LS-CAT members are Michigan State University, University of Michigan, Wayne State University, Van Andel Research Institute, Northwestern University, University Wisconsin-Madison, Vanderbilt University, and University of Illinois at Urbana-Champaign.
For details on the equipment and capabilities of LS CAT, please visit their web site.
Access to LS CAT
The Structural Biology coordinates access to LS CAT for members of the Northwestern University research community that are interested in macromolecular crystallography experiments. Northwestern University receives a block of time each run and the Facility allocates time based on requests by individual investigators.
If you are interested in accessing LS CAT and are a member of Northwestern University, please contact
Pamela J. Focia, PhD
Facility Manager
(312) 503-0848
MACROMOLECULAR CRYSTALLOGRAPHY
The Facility provides a wide range of instruments for macromolecular crystallography, particularly for crystallization experiments and sample manipulation.
Crystallization robots
Crystallization robots using 96-well plate format.
In the Chicago campus: Art Robbins Hydra crystallization robot.
In the Evanston campus: Art Robbins Gryphon crystallization robot with Liquid Cubic Phase (LCP) and bicelle capabilities.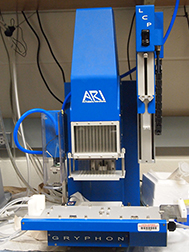 UV/Visible microscopes
UV/Visible microscopes for inspection of crystallization experiments
The  UV/Vis microscopes allow users to distinguish protein crystals by their absorption in the UV range. They also provide an easy way to photograph crystallization experiments.
In the Chicago campus: Jansi UVEX UV/Vis microscope at room temperature.
In the Evanston campus: Two Jansi UVEX UV/Vis microscopes, one at room temperature and one at 4° C.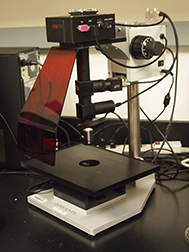 Stereomicroscopes
Stereomicroscopes for inspection of crystallization experiments and crystal mounting
Several stereomicroscopes are available in both campuses to inspect crystallization trays, mount crystals, and other crystal manipulations. There are microscopes both at room temperature and in the cold room (4° C).
Crystallization Incubators
Controlled temperature incubators for crystallization experiments
Several incubators are available in both campuses devoted to crystallization experiments. There are incubators at room temperature, 36° C, 30° C, 22° C, 18° C, 14° C, 10° C and 4° C.
Crystal mounting tools
Crystal mounting and transportation tools
Tools for crystal manipulation and mounting as well as cryo-pucks for crystal transport are available. The pucks (SPINE) allow users to mount their crystals for transport to the synchrotron in a Dewar. The pucks are compatible with the robots at LS CAT and other synchrotron facilities.
Liquid dispenser
Liquid Dispenser (coming soon)
Automated microlitre liquid handler  prepare crystallization trays in 96- and 24-well format.
CRYOEM
The Facility provides access to transmission electron microscopy instruments and all the ancillary equipment for cryo-electron microscopy.
JEOL 3200FS TEM
JEOL 3200FS Transmission Electron Microscope
The JEOL 3200FS is a 300 kV TEM with a side entry holder. It is equipped with a Gatan K2 Summit Direct Electron Detector. The JEOL 3200FS can be used in manual operating mode or it can collect data in a more automated way using leginon. The JEOL 3200 is normally operated at cryogenic temperatures.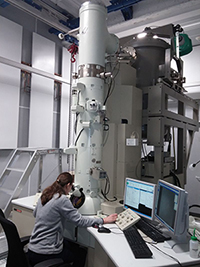 JEOL 1400 TEM
JEOL 1400 Transmission Electron Microscope
The JEOL 1400 is a 120 kV TEM with a side entry holder. It is equipped with a 4K x 4K CCD camera. The JEOL 1400 is an ideal instrument for preliminary characterization using either negative stain or cryo-samples. It can be used in manual operating mode or it can collect data in a more automated way using leginon. It can operate either at cryogenic or room temperature.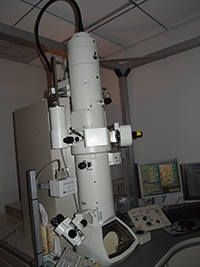 Plasma cleaners
Glow Discharge Plasma Cleaners
Two plasma glow dischargers to clean and alter the surface properties of grids using in TEM experiments. The two cleaners have different characteristics to provide a wider range of options in grid preparation.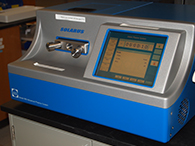 Gatan Solarus plasma cleaner.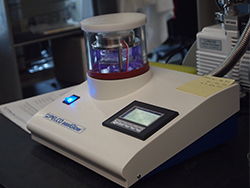 Pellco easiGlow plasma cleaner.
Carbon coater
Carbon coater
Cressington 308R carbon coater and thickness monitor to deposit thin carbon films on the EM grids.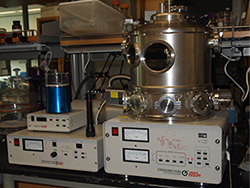 Cryoplungers
Cryoplungers
Two different cryoplungers for cryoEM grid preparation.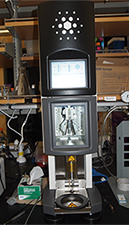 FEI Vitrobot Mark IV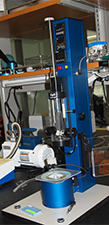 Gatan CP3 cryoplunger
Sample holders
Sample holders
Several different sample holders.
Two Gatan 626 single tilt cryo-holders.
Turbo pumping stations
Turbo pumping stations
Two Gatan 655 Turbo Pumping Station for drying and storage of  cryoholders.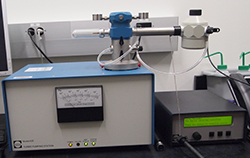 Liquid nitrogen autofillers
LN2 autofillers
Two LN2 autofillers are available to allow long, unattended runs of the JEOL 3200FS TEM. One autofiller can refill the holder while the second can refill the autocontaminator.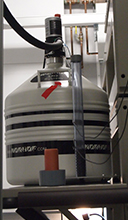 MOLECULAR CHARACTERIZATION
The Facility provides limited number of instruments for molecular characterization. Extensive instrumentation for biophysical characterization of macromolecules is available through the Keck Biophysics Facility.
Multiplate reader
Multiplate reader
A Tecan Safire2 multimode, multiplate reader (UV/Vis, Fluorescence, Luminescence) is available in the Chicago campus.
COMPUTATIONAL
The Facility provides access to powerful computers for many different types of calculations as well as ample disk storage space for data from structural biology experiments.
Linux CPU cluster
CPU cluster
Linux computational CPU cluster with over 20 nodes and 256 processors. The cluster is connected to the external world through a 10 Gb ethernet connection allowing very fast transfer of data from the TEMs or the APS.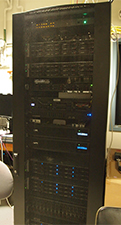 Linux GPU cluster
GPU cluster
Linux computational GPU cluster with 2 nodes. Each node has 8 NVIDIA GTX 1080 graphic cards.
Disk storage
Disk storage
Several parallel RAID filesystems provide over 200 Tb of disk space to allow user to store data from data intensive experiments, such as CryoEM and X-ray crystallography.
Visualization workstations
Visualization workstations
Several powerful workstations for data analysis and visualization. All workstations have advanced graphics card to allow fast rendering of structures and stereo capabilities. The largest workstations are also capable of processing CryoEM data. All workstations are connected to the linux cluster through fast connections.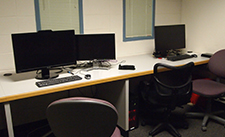 Tape backup and storage
Tape archiving system
A fast LT06 Ultrium tape drive is available to store large amounts of data. In addition, the cluster has an automated, multi-tape system for backup of the data in the cluster.
Software
Software
We support a wide variety of software for structure determination and analysis. Macromolecular crystallography software includes the CCP4 suite, CNS, SHARP, and SOLVE, and X-ray diffraction data processing programs HKL2000, XDS and MOSFLM. For CryoEM we support Relion, CryoSPARC, cisTEM, Spider, EMAN, and others. For NMR we support CNS, FELIX and Aria. We support molecular graphics software for model building, analysis and presentation including COOT, Pymol and APBS. We support modeling, simulations and drug discovery software packages including DOCK, AutoDock, GOLD, SYBYL, Allegro, Delphi, GROMACS, AMBER, AMSOL, MS, and INSIGHT/DISCOVER.